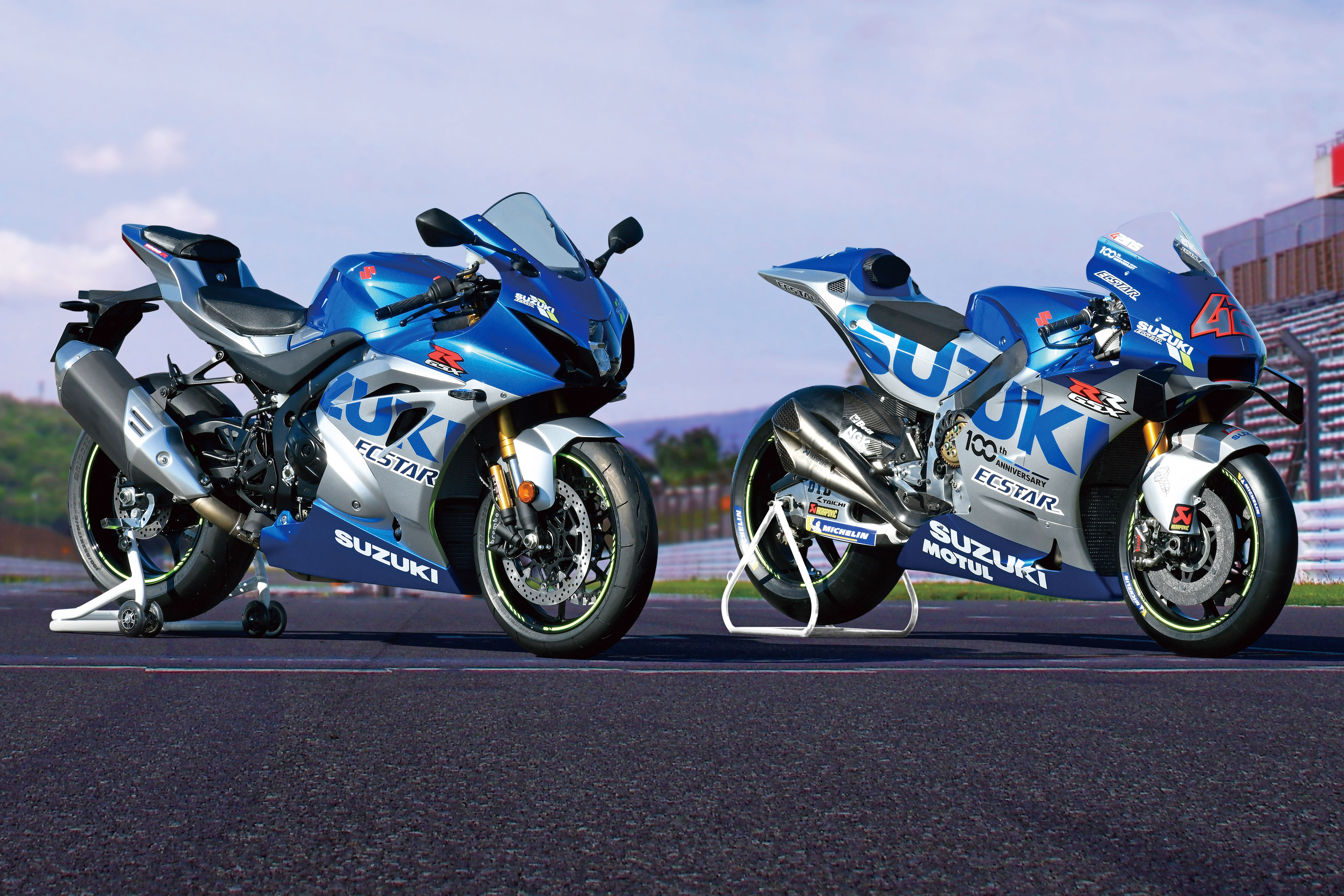 10 reasons why the 2022 Suzuki GSX-R1000 is still the king of sport bikes
After too many years of playing second fiddle to rivals Honda, Yamaha and Kawasaki, Suzuki decided enough was enough and completely redesigned the iconic GSX-R1000 to bring it back to the top of the racing bike tree. sport. A new chassis, new engine and revised electronics have brought the Gixxer up to date and capable of challenging Honda, Kawasaki and Yamaha both in the showrooms and on the race track. It's the best GSX-R1000 yet, and here's everything you need to know about it.
10/10

A rich history
A blue and white GSX-R750 from 1985
In the early 1980s, sportbikes were big and heavy, and yes, fast, but lacking in chassis and handling. Then came the Suzuki GSX-R750, a thinly disguised race bike for the road that changed the whole concept of sportbikes for the road. Then followed the GSX-R1100 in 1986, born by lightening the GS1100 naked road bikes and adding a fairing, but handling still left much to be desired, largely still due to excess weight. Fast forward to 2001 and the way forward had been shown by the 1994 Honda CBR900RR Fireblade and the 1998 Yamaha YZF-R1. Suzuki responded with the GSX-R1000, with a 160 horsepower, 80 lb- ft. of torque resulting in 374 lbs. of total weight. Between 2001 and 2016 there were eight developments of the GSX-R1000, with chassis and engine updates along the way.
9/10

2017 Suzuki GSX-R1000 L7
The GSX-R1000 updated for 2022
In 2017, Suzuki was once again left behind in the one-litre sport bike category, with Honda, Yamaha and Kawasaki all topping the Suzuki in terms of power and electronics. Suzuki had to go back to the drawing board if they wanted to follow what might have been a dying breed of motorcycle, but was still important in terms of having a flagship model; not to mention a base for production-based racing. Sales have fallen in the face of increasingly popular adventure bikes, but Japan's big four manufacturers still have faith in the one-litre sport bikes. It is this model that is still under construction today.
Related: 2020 Suzuki GSX-R1000
8/10

Two models in the range
Side view of the GSX-R1000, still the most elegant sports bike
You can buy the "standard" GSX-R1000 and the fancier GSX-R1000R, which comes with Showa BFF and BFRC-Lite suspension, which is lighter than the units on the standard bike. You also get a two-way quick shifter on the gearbox and launch control. Interestingly, you have to go for the "R" version to get ABS as standard. Both models have the same engine.
7/10

New engine
Street bike and MotoGP bike together on the track
The 2017 Suzuki GSX-R1000 got its first new engine since the 2009 update. A higher rev limit was one thing, but one surprising omission was a balance shaft, as a four-engine was thought to inline cylinders had decent primary balance without requiring additional complexity. That said, Suzuki used variable valve timing for the first time via a centrifugal ball-and-plate system that changed the timing of the camshafts. Revised fueling allows the engine to produce 199 horsepower at 13,000 rpm and 87 lb-ft of torque at 10,800 rpm.
Related: 2022 Suzuki dashes hopes for the new GSX-R1000
6/10

Electronic
2022 Suzuki GSX-R1000 Track Shot
No surprise here, the GSX-R1000 being the flagship of Suzuki's sportbike lineup. The standard model makes do with a basic electronics package that many riders like because there is less interference with the experience. Three riding modes that alter the power delivery are on this. On the 'R' model, however, things speed up a lot. A six-axis IMU provides tilt-sensitive traction control (10 levels) and ABS. ABS is very clever. Called the Motion Track anti-lock braking system, when the IMU senses rear wheel lift under extreme braking forces, the control module reduces brake pressure minutely to bring the wheel back down and promote stability. The Suzuki Easy Start system means you just have to press the start button momentarily and the electronics will hold the engine cranking until it fires. Additionally, there is Suzuki Low-RPM Assist, which prevents the engine from stalling when starting. Finally, there's the two-way quick shifter and launch control, for the quickest starts possible.
5/10

Frame
Static photo of a Suzuki GSX-R1000 and GSX-RR MotoGP bike
The 2022 GSX-R1000 chassis frame is all-new, made from aluminum, and not only has a longer swingarm to aid stability, but also has sharper steering geometry and a relocated motor, which has been turned rearward six degrees change the weight distribution slightly. An electronically controlled steering damper to calm things down under hard acceleration and new, lighter six-spoke cast alloy wheels wearing super sticky (though perhaps not the most durable) Bridgestone RS10 tyres. Curb weight dropped seven pounds, from 448 pounds to 441 pounds.
Related: Suzuki Finally Updates The V-Strom 650
4/10

Brakes
Shot of a GSX-R1000 bend
What better than Brembo's best monobloc calipers to master all that performance? Dual 320mm discs up front provide massive stopping power, but with plenty of lever feel to give you maximum slowing with the slightest chance of locking everything up and sliding into tire barriers at the end from the straight line.
3/10

Why is it the best one-liter Superbike?
Studio shot of a 2022 GSX-R1000
Suzuki is well known for its bulletproof engineering in its engines and the 2022 GSX-R1000 is no different. Reliability, durability and mountains of usable power are all hallmarks of the engine, and it's married to a chassis that forms the lightest, most compact, most aerodynamic, best-handling and fastest GSX-R1000 ever. ever built by Suzuki. While rivals seek ultimate horsepower figures, Suzuki focuses on the ability to use all the power produced by the engine in a fine-handling chassis.
Related: We Bet This Is The Coolest 2022 Suzuki Hayabusa On The Market
2/10

Rivals
Side view of a Honda Fireblade
Make your choice! The Japanese have perfected the art of the one-litre superbike and are still pouring millions of yen into developing these models, even though the market for them is shrinking! Honda's Fireblade CBR1000-RR, priced at $16,499, underwent a similar development program to the GSX-R1000 when the buying public demanded at least 200 horsepower. This now has a chassis that rivals the Suzuki for compactness. Indeed, some riders find it a bit too small but, for usability, the Honda is hard to beat.
Static photo of a green Kawasaki ZX-10R
Kawasaki and Yamaha have made hay over the past decade in World Superbike racing with the ZX-10R ($18,199) and YZF-R1 ($17,599) respectively. Both are incredible machines with far more performance than any mere mortal can fully exploit and together with their extensive electronics packages give the Suzuki a positively analog look but that's a factor in the Suzuki's favor for many pilots.
Front three-quarter shot of a blue Yamaha YZF-R1 standing on a paddock
In Europe there's the Ducati Panigale V4S, priced at $29,995, which has a bigger engine than the Suzuki, more power and incredibly complex electronics, but also costs significantly more, while the Aprilia RSV4 ($18,999) is one of the best handling bikes money can buy but can't match the Suzuki for reliability.
1/10

Pricing
Side view of a Suzuki GSX-R1000 in Legends colors
The standard Suzuki GSX-R1000 sells for $15,849, while the GSX-R1000R sells for $24,250. We don't know about you, but nearly $10,000 for a slightly lighter suspension, quick shifter and launch control seems a bit steep, especially when the standard GSX-R1000 is already so good.
FAQs
Q: How much does a GSX-R1000 cost?
The Suzuki GSX-R1000 is $15,849, while the GSX-R1000R is $24,250
Q: What is the top speed of a Suzuki GSX-R1000?
The top speed of the Suzuki GSX-R1000 is around 186 mph
Q: How powerful is a Suzuki GSX-R1000?
The Suzuki GSX-R1000 engine produces 199 horsepower