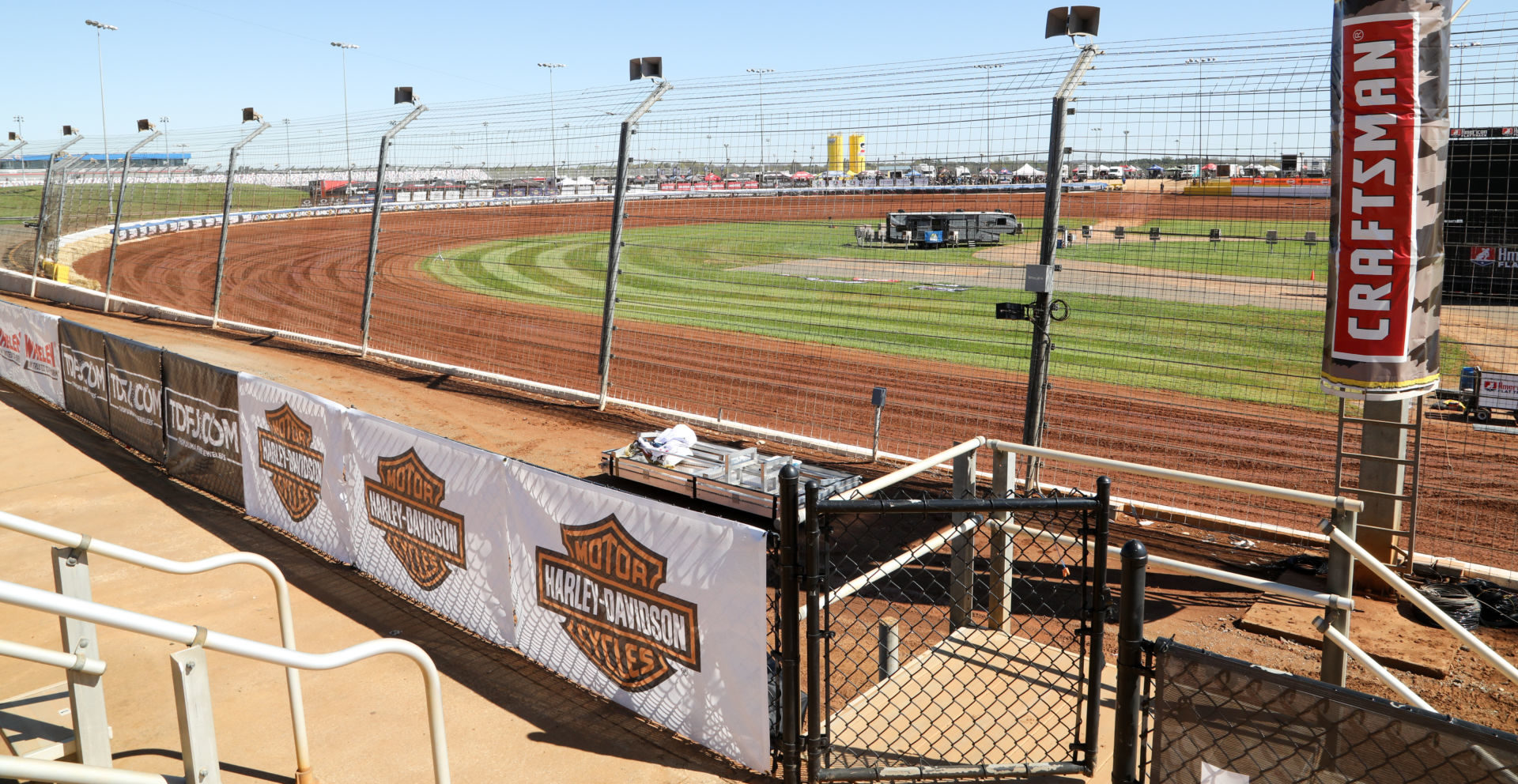 American Flat Track: More from Charlotte Half-Mile – Roadracing World Magazine
Mees crowned 2021 National Grand Champion in Dramatic Progressive AFT Finale
Dallas Daniels able to chain AFT Singles Championships
CONCORD, North Carolina (October 10, 2021) – An epic Progressive American Flat Track season finale was almost guaranteed with the Mission SuperTwins title presented by S&S Cycle in play. Even still, the Honda Charlotte Half-Mile on the Dirt Track at Charlotte Motor Speedway in Concord, NC , turned out to be more dramatic than anyone could have imagined.
After the checkered flag fell and a season's points were accumulated, legendary Jared Mees (No.9 Indian Motorcycle / Progressive Insurance FTR750) completed his two-year ascent to reclaim the Grand National Championship.
After 15 and a half rounds, a titanic fight for the Grand National Championship took a fateful turn in the blink of an eye. Twice in Defense Mission SuperTwins presented by S&S Cycle King Briar Bauman (No.1 Indian Motorcycle / Progressive Insurance FTR750) broke free from an early aerial fight with Mees to stretch several lengths of bike up front. The two title contenders would spend the next few minutes in a cat-and-mouse game, with Bauman managing a gap of just under a second despite Mees' desperate attempt to eat into the advantage.
If Bauman held that lead to the checkered flag, he was on the verge of becoming the sixth runner in history to win three consecutive Grand National Championships. But that dream turned into a nightmare when he broke loose in the wet section and his machine stood up beneath him.
After nearly making a miraculous save, Bauman finally cut a bale of hay and was sent over the bars. His bike then rushed straight into the path of podium contender Sammy Halbert (Indian FTR750 Coolbeth-Nila Racing # 69), who had nowhere to go and was sent high into the air in a dramatic crash.
After some time, Bauman was able to get back on his feet while Halbert was unfortunately unable to continue the race and was transported to be assessed for injury.
Further proving his worth as a champion, Bauman mounted his spare machine and lined up at the back of the grid for the restart with five minutes plus two laps remaining to decide the title. Unfortunately, his bruised body did not live up to his bravery, and after a short stint, Bauman was forced to retire to the pits.
While the title was actually decided at that point, the race was not. JD Beach (# 95 Estenson Racing Yamaha MT-07 DT) stepped forward to give Mees a fierce fight for victory. As time passed the two were slowly brought back by Davis Fisher (No.67 BMC Racing / Dick Wall 60 Indian FTR750) and Jarod Vanderkooi (No.20 Mission Roof Systems Indian FTR750), who turned it into a four-track . scrap as the clock hit 0:00.
With two to go, Beach took his shot, which was deftly repelled by Mees.
Fisher, however, took advantage of their brawl, slipping under Beach and then lining up Mees in the last corner of the year. He went under the future champion and passed him as they sprinted towards the checkered flag.
The paddock erupted when Fisher hit the strip 0.114 seconds ahead of Mees to claim her first premier class victory. Beach held third, followed by Vanderkooi and Brandon Robinson (# 44 Mission Roof Systems Indian FTR750) to round out the top five.
Fisher said, "Oh man, that was a fight. The whole season has been a chore, just to keep in shape and keep working on the bikes all week. It feels so good. I even thought about not even coming to Charlotte this year. We loaded the van and left the trailer at home and made the trip. This morning my sponsor said he was glad we came and asked me if I was happy too. I said, 'I don't know, I'll tell you tonight!' It feels so good. I have 41 hours to think about it on the way back.
Future Hall of Fame Mees now owns Grand National Championships '12, '14, '15, '17, '18 and '21, as well as the 2009 and 2011 GNC1 Twins Championships and the 2012 GNC1 Singles Championship. : "I give it to Briar. He's definitely one of the toughest competitors – if not the toughest competitor – I have ever dealt with.
"The famous saying is that you win them in any way you can. I don't know… the hype isn't there right now… but to win these things you have to cross the finish line. Dude, he's made me step up my game the last few years – there's no doubt about that. He's a tough competitor. We had a little 'bro-out' moment there, and I said, 'Hey, you're gonna get well and the battle will start again next year.' "
AFT Singles
The AFT singles final was as tense as possible given the current situation, but in the end Dallas Daniels (No.1 Estenson Racing Yamaha YZ450F) did just the right thing. to become the very first comeback of the class. -back champion.
With a 20-point gap between Daniels and second-placed Max Whale (No.18 Red Bull KTM Factory Racing 450 SX-FFE), the only way Daniels could not keep the No.1 plate was if Whale won and Daniels finished longer. low. than the 13th.
While this seemed like an unlikely prospect in theory, it felt a lot more realistic once the rubber hit the ground. As the decisive race took shape, Whale took the lead in an intense battle with Kody Kopp (No.143 Smartop / Jones Honda / Latus Motors CRF450R) as Daniels circulated cautiously in 12th position on a tricky course that demonstrated repeatedly his ability to catch up with riders without notice.
Adding to the tension, the race was reported late following an accident at Morgen Mischler (Mission Roof Systems KTM 450 SX-F # 13). This forced Daniels to navigate neighborhoods close to a restart, but he actually regained some ground in the process, escaping well to place in a sixth safety.
Whale did all he could, overtaking Kopp to claim his fifth class-leading victory of the year. Just behind, Trent Lowe (No. 48 WBR / Suzuki Motor of America RM-Z450) landed a spectacular late strike to beat his Honda teammates Cole Zabala (No. 51 American Honda / Progressive Insurance CRF450R) and Trevor Brunner (No. 21 American Honda / Progressive Insurance CRF450R) in order to secure his first podium of '21 on his very last attempt.
And then came Daniels, who crossed the line in the sixth to successfully complete his championship defense.
An emotional Daniels retaliated with tears, saying, "This championship has been tough – a lot of ups and downs this season. I cannot thank my team enough. It's been a tough season and these guys have stayed behind me. Making history like that is great. It was hard tonight because the track was dangerous. It just means the world to me.
Race winner and championship finalist Whale said: "It's really satisfying. You are only as good as your last run. You know it's great to win, and I'm super excited. The team and I worked so hard today. But I'm also disappointed because I really wanted to win the championship this year. But that's how it really happens – it's motorcycle racing. Kudos to the whole Estenson team and to Dallas he has been riding very well all year.
AFT Production Twins presented by Vance & Hines
Jesse Janisch's end-of-season transition (# 96 Vance & Hines Harley-Davidson XG750R) from the couch to the AFT Production Twins presented by Vance & Hines ended on the top step of the podium.
Once considered primarily a TT 450cc ace, Janisch proved he was more than a twin after being drafted to replace injured Dalton Gauthier (No.79 D&D Cycles / Vance & Hines Harley-Davidson XG750R). With second, third, third and fourth finishes to his credit in limited service, Janisch put the icing on the cake with a narrow final victory over Ben Lowe (No.25 Vance & Hines / Mission Roof Systems Harley-Davidson XG750R ).
Janisch said, "It's crazy, isn't it? I did not expect that. Honestly, I don't think anyone really expected it. It is such an honor to have a chance with such a prestigious team. Vance & Hines Harley-Davidson, they have the XG750R that works like a charm. Like I said before, I think it's the best bike in the class. And just having the opportunity is unreal.
With the class crown already decided in favor of Cory Texter (No. 65 G&G Racing / Yamaha Racing MT-07), Chad Cose (No. 49 Vance & Hines / Ranger / Roof Systems Harley-Davidson XG750R) and Dan Bromley (No. 62 Memphis Shades / Vinson Construction Yamaha MT-07) came to Charlotte to decide the championship finalist between them.
Cose was the first leader of the race and Bromley joined Cose, Janisch and Lowe in a halfway incline for first place. Cose eventually disappeared in seventh place as Bromley completed the podium, but the differential was still not enough for Bromley to overtake Cose for second place honors.
Johnny Lewis (No. 10 Moto Anatomy X Powered by Royal Enfield Twins FT) pushed the Royal Enfield to fourth place. Meanwhile, class champion Texter added a final top five to a championship-winning season that totaled seven wins, 11 podiums and 13 top five in 16 races.
The Honda Charlotte Half-Mile premieres on NBCSN on Saturday, October 16, starting at 7 p.m. ET / 4 p.m. PT. It will premiere on Friday, October 22 at 6 p.m. ET / 3 p.m. PT.
For more information, please visit http://www.americanflattrack.com.
To mark the latest gear for the Progressive American Flat Track fan, visit our official merchandise store at https://store.americanflattrack.com.