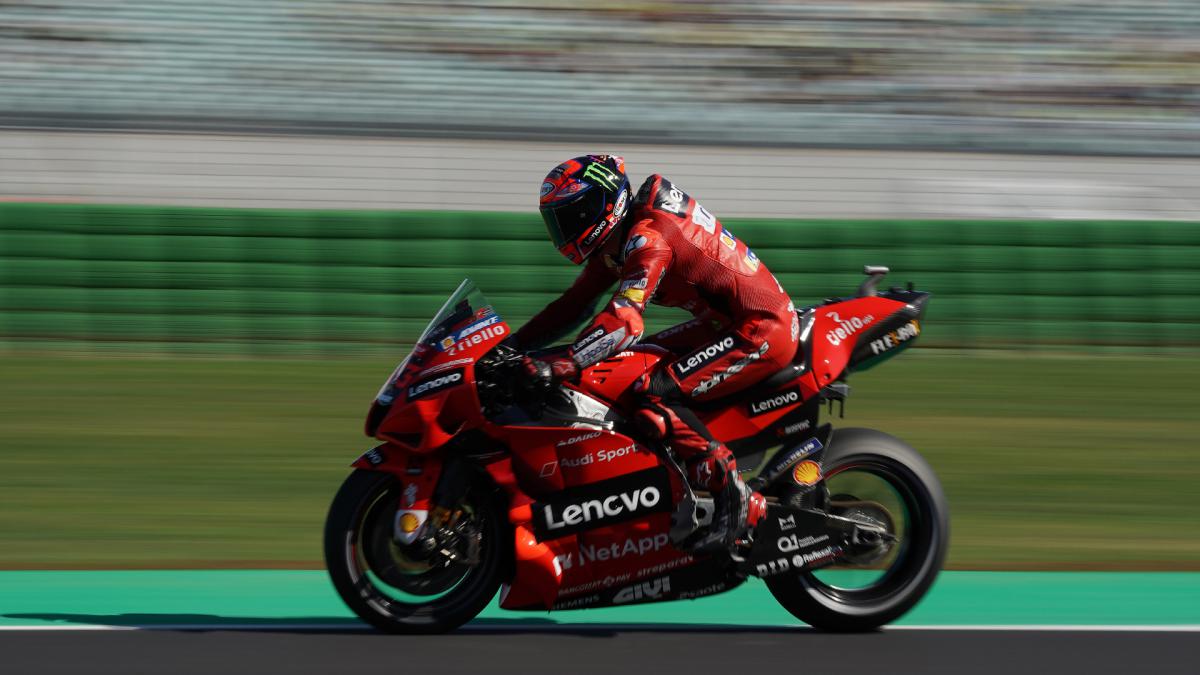 Bagnaia and Quartararo ready to fight for the victory of San Marino in MotoGP.
Francesco Bagnaia stormed another pole position in MotoGP, but Sunday's weather could be decisive for decide who will win the San Marino Grand Prix.
Ducati motorcycles dominated qualifying, representing four of the the first five places, with Jack Miller joining Bagnaia in a one-two for the factory team, ahead of Yamaha championship leader Fabio Quartararo.
The Ducati-powered Pramac Racing pair of Jorge Martin and Johann Zarco took fourth and fifth places at Misano, a local track for Ducati who will be hoping for a home win.
Bagnaia and Quartaro are waiting for a wet track
Still, Bagnaia and Quartararo both indicated after Saturday's qualifying session that if it rains, as forecasts suggest, it could be a major factor in the result. A wet track is likely to suit the pole sitter.
Pacer Bagnaia also took pole last week Grand Prix of Aragon and converted that to a race victory, his first at MotoGP level, and he is second in the championship.
He described his fastest lap Saturday time like "unbelievable" and said: "I feel good with everything. I think we did at a really good pace
Ready to fight for victory
"In both conditions, dry and wet, I think we are ready to fight. Of course, in the dry, Fabio has a better pace than in Aragon, so I think it can be a good fight with him, but let's see, never say never.
"I prefer the dry.It's very difficult to plan a strategy for tomorrow but I would like to start, attack from the start, and see if I can handle the gap or I will have to fight in the last laps. In any case, we will try to be ready under all conditions.
"It's the second weekend in a row that all Ducati leading qualifying, and also for me to put the bike in front of Fabio for the championship. We work well, the bike is very competitive and we take a really good step every time. "
Confident quartaro
Quartararo crashed as he was looking to get ahead of Bagnaia on the grid, but the French rider swept him away after the session, stating that he was "totally OK".
"I just wanted to exaggerate a bit on the braking, but unfortunately it was not working," Quartararo said on the official MotoGP website. "But it was good, I tried – at least I felt the real limit on the bike. I feel like our pace is really good compared to Aragon, where it wasn't great. i feel ready for tomorrow – a little surrounded by red [Ducati] bikes but I feel good.
"They're faster than us in the wet, but my feeling in the dry is super good and I want to continue in this direction. I don't want to talk about rain and I don't want to call it. "
Ducati: fourth time on pole
Ducati took four pole positions at Misano, after Casey Stoner topped the timesheets in 2007 and 2008, followed by Jorge Lorenzo three years ago. From these pole-sitters, only Stoner in 2007 took the checkered flag the day of the race.
Last season's champion Joan Mir had a qualifying session to forget, with a message on the scoreboard on his Suzuki Ecstar bike urging him to dig to prove a red herring. There were no issues with the bike and technical director Ken Kawauchi later apologized for the mistake.
Mir was returned to the track but was only able to finish in 11th place, with Quartararo crash causing yellow flag conditions in the closing phases.
Sad Mir after qualifying issues
"Qualifying was a shame; we didn't have the potential to fight for pole and we're honestly pretty far from it, "said Mir.
"I felt second row was possible, but then I had issues with the front on my first outing and then saw a message on my dash right after I got out for the second run. I thought I had to stop in case there was a problem with the bike, and in the end it impacted my qualifying as well as the yellow flag on my last lap.
"There is no point in being frustrated; the focus is now on racing and I know I have a good pace if I can get off to a good start. "
Qualifying results
1. Francesco Bagnaia (Ducati) 1: 31.065
2. Jack Miller (Ducati) + 0.249secs
3. Fabio Quartararo (Monster Energy Yamaha) +0.302
4. Jorge Martin (Pramac Racing) +0.598
5. Johann Zarco (Pramac Racing) +0.771
6. Pol Espargaro (Repsol Honda) +0.858
7. Marc Marquez (Repsol Honda) +0.870
8. Aleix Espargaro (Aprilia) +0.872
9. Alex Rins (Suzuki Ecstar) +0.952
10. Maverick Vinales (Aprilia) +1.056
11. Joan Mir (Suzuki Ecstar) +1.361
12. Enea Bastianini (Avintia) +1.396