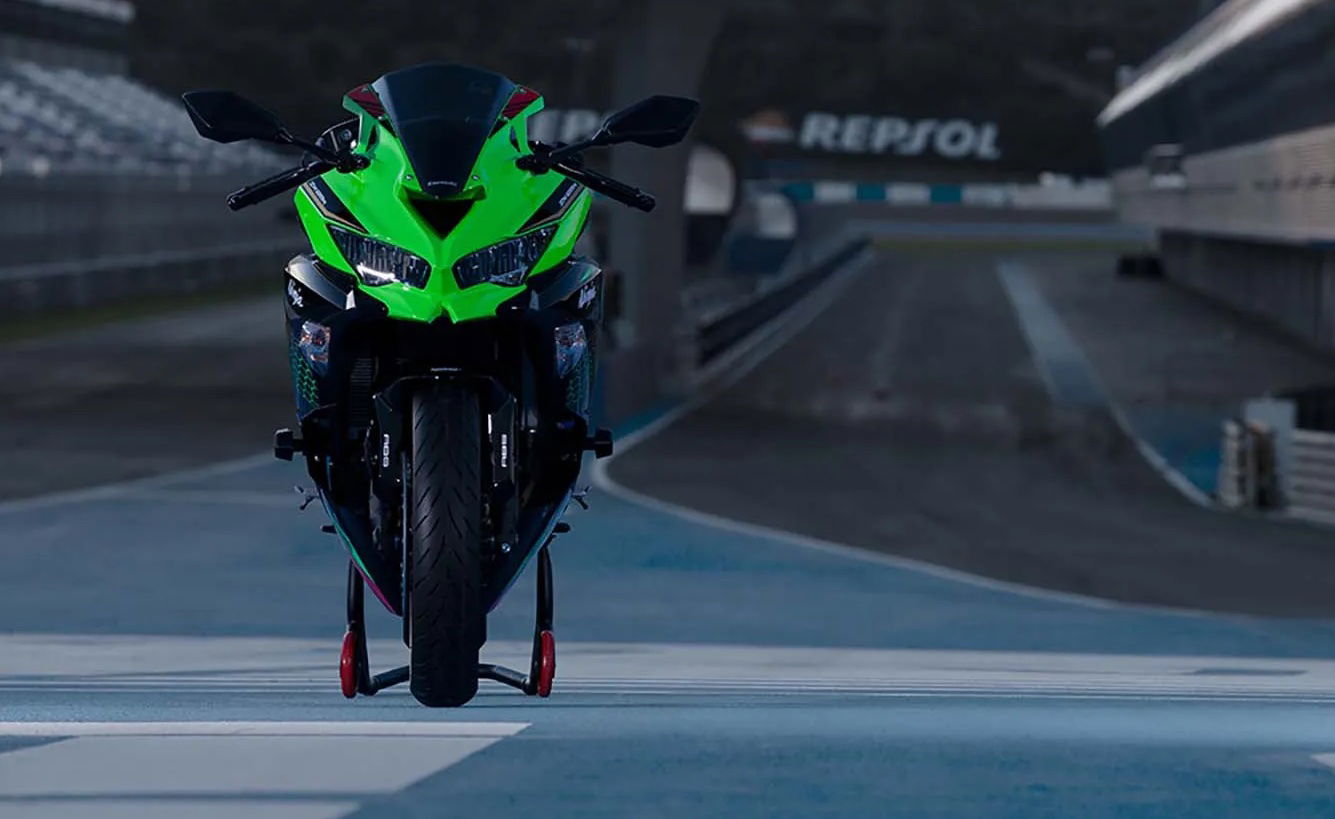 Bigger but still b… | The all-new Kawasaki ZX-4R in preview
KAWASAKI Indonesia has released a teaser video announcing that a new motorcycle will be unveiled on October 1st – if the rumors are correct, it could be the new Kawasaki ZX-4R Ninja!
Rumors of the Kawasaki ZX-4R Ninja have been around for some time now, and Visordown first reported on it in March this year – see below for that article. Then it was the mystical crystal ball watchers of Young Machine who broke the "news". Either that rumor has gained traction or we are on the cusp of a new age 400cc sportbike revolution!
You might be wondering what all of this has to do with us in the UK, and quite a few things actually. First off, we didn't get our hands on the ZX-25R Ninja, and that's a real shame. Its sizzling little 250cc four-cylinder engine and sporty chassis would have made it a hit on British B-roads.
Could a new Kawasaki ZX-4R be unveiled on October 1?
The fact is that the ZX-25R didn't come to the UK for good reasons, with the expected low sales compared to more average machines probably being the most important. A thoughtful ZX-4R Ninja is a slightly different proposition, however. With its slightly larger capacity, but still with its straight-four engine configuration, a ZX-4R could be much closer to the established pack of new-era middleweight sportbikes – things like the Aprilia RS660 and the Yamaha R7. We're not saying that's going to happen, but with some competition already on sale in the UK market, Kawasaki might see fit to send the ZX-4 to Europe as a sort of sportier incarnation of the venerable Ninja 650.
We'll be keeping an eye on the presentation as it goes and bringing you all the details once they arrive.
A glimpse of the famed Kawasaki ZX-4R has surfaced in its native Japan as the manufacturer prepares to launch a new generation of sportbikes for Europe.
Talk of a new 400cc inline-four sportbike has been rife for some time, ever since Kawasaki invoked the golden age of "howlers" with the launch of its low-capacity ZX-25R and high revs in Asia in 2020.
With emissions regulations preventing Kawasaki from importing the ZX-25R into Europe as it is, it instead applied the philosophy to a 400cc drivetrain with confirmation of its imminent arrival seemingly backed up by patent documents last year .
Now, Young Machine – the authority for upcoming Japanese motorcycles – has made the ZX-4R its latest cover star with a render that's likely to have a very close relationship to the final product. Its title also suggests that Kawasaki is gearing up for an official world premiere very soon.
Although related to the ZX-25R, the ZX-4R is expected to borrow heavily from the latest generation ZX-10R for design, including an evolution of the recessed headlight and pointed nose, while the fairing design shows an overhaul. with an addition of a built-in air duct.
It's also likely to feature premium touches like Kawasaki traction control and traction control, inverted front forks and different power modes. However, the jury is out on whether Kawasaki will cave to public pressure and release it in an all-retro green, white and blue livery following an overwhelmingly positive response to a unique WorldSBK livery reminiscent of the 1990s ZX-7R.
We're not talking about the horsepower and, well, torque the ZX-4R could produce, but somewhere in the region of the ZX-25R's 50hp would be the minimum, although it could also push towards 75-100hp to put it in the range of Yamaha R7 and Aprilia RS 660.
What's less clear is whether the ZX-4R is being touted as a replacement for the now out of production ZX-6R.
After quietly slipping price lists, although there is still stock of the ZX-6R, there have been conflicting reports as to whether it will be replaced as an identical or if the combination of the ZX-4R and of the best-selling 650 Ninja will act as de facto successors.
It's a similar approach taken by Yamaha, which ditched the R6 and released the much milder, but more mainstream R7. There are plans to launch an R9 – based on the MT-09 – this year, however.