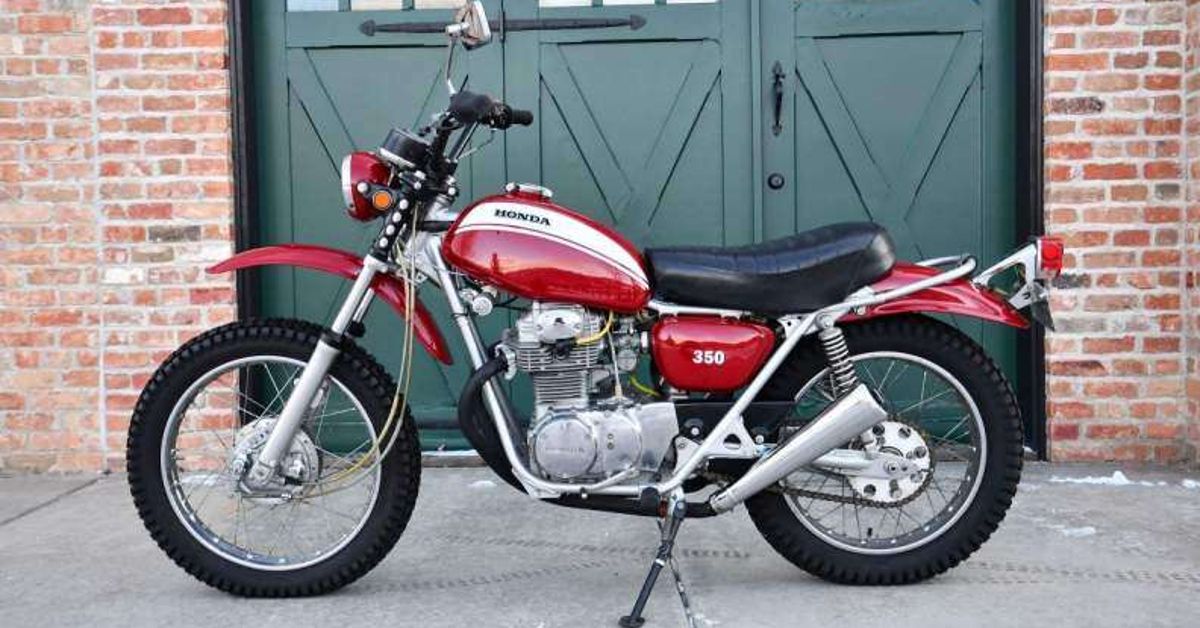 Here's Your Chance To Buy John Wayne's 1971 Honda SL350 Motorcycle
Hollywood silver screens are quite influential in our modern society. Therefore, it's no surprise that any vehicle shown on screen becomes recognized and, given enough exposure, perhaps even iconic.
While cars are Hollywood's most obvious vehicular features, motorcycles are often understated but nonetheless important vehicles featured in a variety of Hollywood films. There's just something special about the quick and nimble handling of a motorcycle, whether it's weaving between cars, jumping several meters off a ramp or simply navigating narrow lanes. One of the most famous American actors in Hollywood during the early western period was John Wayne, and while it may not be a publicly known fact, he enjoyed riding motorcycles. Plus, he even had a very special 1971 Honda SL350 motorcycle that he rode a bit.
John Wayne's very special 1971 Honda SL350 motorcycle is up for sale, giving someone the chance to own a very special motorcycle and a piece of Hollywood memorabilia.
The Honor and Legacy of Honda Motorcycles
Before we get into John Wayne's special Honda, let's briefly review the history of Honda motorcycles to better understand why Wayne's Honda is so special.
According to the Al-Futtaim Automotive blog, Honda was founded in 1948, after mechanic Soichiro Honda developed a new design for piston rings. Initially he tried to offer it to Toyota, ten years before starting his own company, but they refused to buy it. A year after starting his company, he created the first motorcycle, the Dream D-Type, in 1949. This motorcycle was equipped with a 98 cc engine that produced 3 HP. Honda really cemented its roots in 1951 with the creation of its Dream E, which saw significant improvements in performance and sales. Fast forward to the mid to late 1950s and Honda became more and more present in motorsport, really putting their business on the map. Honda's first ever motorsport victory came in 1961 when Mike Hailwood won the Grand Prix in the 125cc and 250cc classes. Honda continued to remain prominent in motorsport, winning multiple Grand Prix victories and continues to do so today as well.
In the late 1960s, Honda shifted its focus to the American market and introduced the CB 750. It was the most sophisticated production motorcycle of its time, the first to feature a four-engine cylinders and disc brakes. The engine produced 67 HP at 8,000 rpm. Well into the 1970s and beyond, Honda continued to innovate with newer and newer performance motorcycles. Their presence in motorsport has not faded and today they continue to win various motorsport races.
RELATED: 10 Hollywood Actors Who Are Real Motorcycle Club Members
Specifics of Wayne's 1971 Honda SL350
So with Honda's glorious and successful heritage, to say the least, it's no surprise that a Hollywood actor of John Wayne's caliber owns a Honda.
Wayne owned a red 1971 Honda SL350 motorcycle that will soon be auctioned off. Granted, Wayne is usually depicted with a very different power setup, however, for those times when he didn't want the fuss associated with actual horsepower, he switched to a more mechanical setup. This bike was actually used for the 1971 movie Big Jack, which, unsurprisingly here, starred John Wayne. But in addition to Hollywood functionality, the dirt bike itself is powered by a 326cc four-stroke twin-cylinder engine mated to a five-speed gearbox. According to MotorcycleSpecs, the motorcycle is set to produce 33 HP, 19.5 lb-ft of torque and has a 9-liter fuel tank.
While previous models of this bike were plagued with flaws, Honda managed to fix the flaws in 1971. The bike has drum brakes, telescopic forks in the front and twin shocks in the rear. The late 1971 models would be very impressive on the trails and comfortable to ride on any surface.
Auction details and estimated price
Aside from the general details of the 1971 Honda SL350s, information on this particular bike remains fairly minimal.
RideApart mentions that the bike has been fully restored, but there are no records or documents stating who completed the restoration or when it happened. The original miles are also unknown, however RideApart photos indicate that the bike's gauge shows 95,103 miles on the odometer, but no one seems to be able to clarify this. Additionally, RM Sotheby's will provide the original California Transfer of Ownership document that proves Wayne's ownership of this bike, showing Wayne's last address before his death.
Wayne's 1971 Honda SL350 is set to go up for auction at Sotheby's Arizona on January 27, 2022. So fear not, there's still time to grab this piece of motorcycle history and Hollywood memorabilia, with the added benefit of being a bike that can be ridden, if desired. Estimates put the price of the bike between $60,000 and $80,000, but the auction will tell.
Sources: HotCars, RideApart, RMSothebys and MotorCycleSpecs
Fonzie's motorcycle delivered to the Gas Monkey garage leaves Richard Rawlings speechless
The Fast N' Loud star bought the "Happy Days" bike because his dad loved the sitcom.
Read more
About the Author