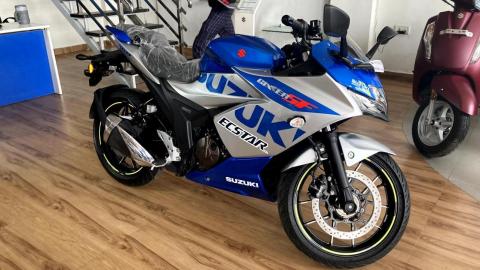 I tested the Gixxer SF 250, the dealer asked me to buy the same device
I was told the bike was not a test vehicle but a new part that was brought in for someone else.

BHPian SkylineGTR recently shared this with other enthusiasts.
I went to a Suzuki showroom to test drive the Gixxer SF 250, a bike that has long been on my list of potential bikes. The bike was fine and all, however, it was not a test vehicle. It was a new unit parked in the showroom. The SA told me it was meant to be delivered to another person. I asked, when? He said, next week.
I asked for a test ride. He said he would give me one but I had to be careful because the bike had no insurance. The sales manager was polite and courteous: I did two rides, a short one then a slightly longer one which he allowed after asking for a longer TD.
What nags me is that he kind of asks me to buy the same bike that I tested. He insists it's a brand new piece and I'm the first person to have it TD. I obviously don't believe so. The speedometer wire is also disconnected, so there's no way to tell how many miles the bike has covered.
I asked him about the other person the bike is for but he says that person hasn't deposited any money yet so no problem if he gives me his bike.
I then asked him how he ordered a bike from Suzuki if the supposed customer hadn't even made a reservation yet? He said, sir, this is how we operate, and we needed a piece to display in the showroom anyway. Oh good? Did you just order a bike from the factory because some guy called you and said he'd be buying one in a few days?
I again insisted on getting a new part from the factory, but he said there was no problem with this one and again insisted that I only buy that one. Is this behavior normal?
Here are my worries
What if this bike is a test vehicle and has already covered several hundred kilometres? Trial bikes aren't treated kindly, people would definitely rev it and ruin the engine.
What kind of showroom just orders a bike from the factory without taking a reservation amount?
Why can't he just say, ok sir no problem, you pay the reservation amount and we'll give you a fresh piece?
Although the sales manager was very polite and sat down with me after his hours explaining prices and everything, I already lost faith in this showroom. Now, even if he agrees to buy a new unit, I'd doubt it's the same old TD bike, washed and cleaned. What should I do?
Here is what BHPian_Roars Engine had to say about it:
Well you were more than happy to test drive a bike that was supposed to be delivered to someone else, I mean if you were so worried about buying a new bike you wouldn't have shouldn't have ridden on someone else's bike.

On another note, if you don't want to take this bike, just reject, they can't force you.
Here is what BHPian KPR had to say about it:
My BIL and I tested a Gixxer SF150 in 2018 that was in a showroom. The Speedo cable was removed and it was a new bike. We liked it. Asked if there is another blue color available. The dealer said the bike we rode was new and no stock is available in the yard. We checked the VIN and it was only 1 month old. So we didn't think twice and bought it even though we knew someone might have tested the same bike. In my opinion, we are the best judge. We saw no scratches and no complaints about the bike.

There's nothing wrong with buying the bike if you're convinced.
Here is what BHPian neil.jericho had to say about it:
There's an old adage that what's good for the goose is good for the gander!

You can't really have it both ways, mate. You agreed to ride the bike to be delivered to another person, even without insurance (What if you had an accident on the way, even if it wasn't your fault?). However, you do not agree to take delivery of this same bicycle. It doesn't seem very logical.

This is not to absolve the dealer of any liability. If they're willing to give you another customer's delivery bike for a test drive, how do you know they won't order another bike for you, give it to you for test drives, and return it to you upon delivery ? Life finds a way to come full circle.

If you like the SF 250 and enjoyed this particular device, don't give it too much thought. Put it down to a lesson learned and buy the bike. In a few days, you will forget all the antics of the dealer.

If you like the SF 250 but are determined not to get the bike you tested, order it in another color.

If you're not comfortable with how the situation unfolded/is unfolding, given that there's no other Suzuki dealership in town, then you're probably better off opting for another brand with an equivalent product and much more honest dealers.

Look for the Regional Sales Manager's number in the showroom and speak to him if you have any concerns.
Here is what BHPian v12 had to say about it:
It's simple, just write down the VIN of the bike you are testing and be sure to check the VIN of the new bike. The dealer cannot force you to buy the bike he wants to sell to you. If you haven't noted the VIN yet and you're afraid they'll try to sell you the same bike, try to reserve the bike after a month when new stock arrives – that way you'll be sure you're getting a fresh piece.

If nothing, just change dealer.
Check out BHPian's comments for more ideas and information.