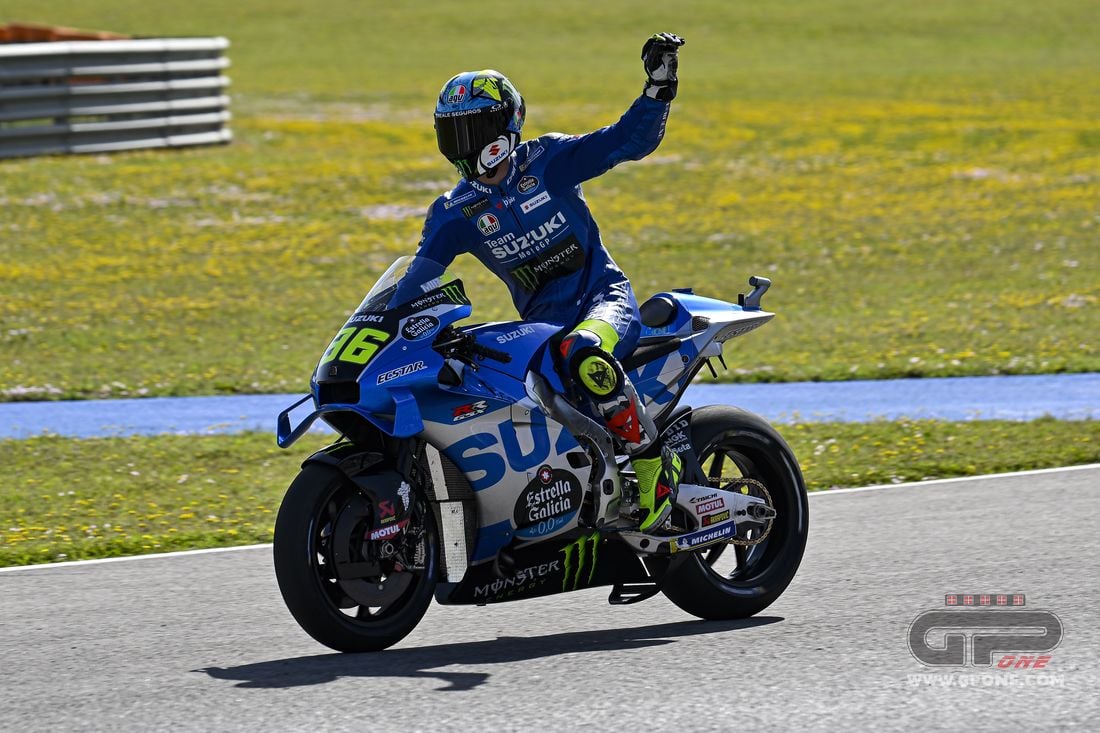 MotoGP, Goodbye Suzuki: Mir and Rins out of work
After much speculation, the rider market finally seemed to be sailing in calmer waters. With Marquez and Bagnaia already signed, Quartararo convinced himself not to switch, as did Mir, as confirmed by his manager. Rins said he received guarantees from Suppo that he could stay in the team. Until Suzuki announced on Monday (to the team, as the official statement still hasn't been made) that he would be retiring from MotoGP at the end of the year.
So now there are two (important) pawns on the market: a MotoGP world champion (Joan) and a very fast rider (Alex). It's enough to upset the balance of things, except for the fact that at least two official teams are already formed: Yamaha, has a contract with Morbidelli as Quartararo's partner, and then there is Ducati, which decides who to choose to team up with Bagnaia.
For Mir, the most likely option will be to wear Honda Repsol colours. The Spanish rider could have done it years ago, when he made his MotoGP debut, but he chose Suzuki instead. But now the game can be done, also because Pol Espargarò's performance does not satisfy HRC, and Joan would be the best option to replace him. We are talking about a very stable rider who could bring important information from the very well balanced GSX-RR, and also thanks to his very young age, 24 years old.
For Mir, that would mean stepping into the lion's den, namely Marquez. A move that has burned other runners before, but now is not the time to be picky.
For Alex Rins, on the contrary, the future is more uncertain. If we talk about official teams, there are only two left (if we take Mir's move to Honda for granted): KTM and Aprilia. The first does not seem too interested in the Spanish driver for the moment, however, while with the second, the situation is more fluid.
After the results of this start to the season, they are practically forced to reconnect with Aleix Espargarò at Noale. All they have to do is agree on the money and the length of the contract. Instead, with Viñales, things are not going so well and, at Jerez, there were insistent rumors that his manager would knock on Pramac's door to assess a transfer to Ducati in the satellite team.
It wouldn't be a setback at all if Viñales decided to say goodbye, and even Alex couldn't complain, given how RS-GP have performed this year, also because, if he wanted another bike, Rins would have to settle for privateer teams.
But they still need to exercise caution. Firstly because the announcement of Suzuki's retirement was sudden, so everything is still in progress, with managers probing the possibilities and scenarios for the future. It's no mystery that Leopard has been keen to enter the premier class for years, as KTM invests in the GasGas brand, with which it already races in Moto3 and Moto2.. Now they say they could build 2 more bikes, in white and red. From now on, it's all a guessing game.
If Dorna wants to keep all 24 bikes, then a builder will have to guarantee them. KTM certainly, but also Aprilia, would need a satellite team for its young riders and also better develop its bikes, especially now that it has lost its concessions.
A team like Leopard (perhaps in conjunction with Max Biaggi) could be a candidate, but there's also Razali who has to decide his future. In fact, the WithU team has signed a one-year contract with Yamaha and, if not renewed, he could move to another manufacturer.
There is also a lot of speculation as to where the orphaned M1s would end up. Some say Iwata could do without it and go with the VR46 (which actually has a 3-year contract with Ducati).
So the games are far from over and, even though there is a week break between races, the managers will still be hard at work.