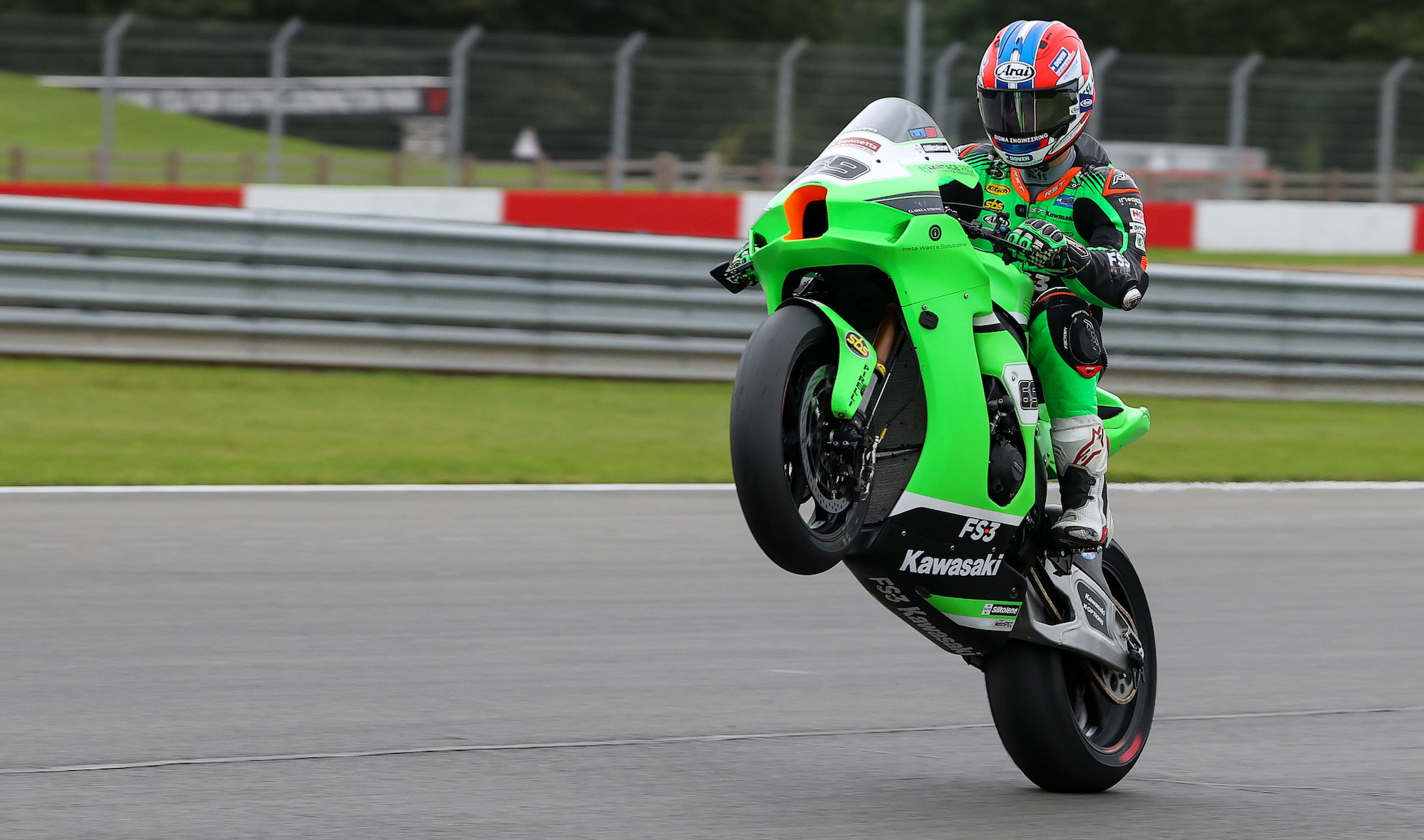 Motorcycle Live celebrity rider list grows for 2023
AS Motorcycle Live is just a fortnight away, the list of world-class riders and stars heading to the event grows, as Rory Skinner, Taylor Mackenzie and more are added to the list.
This week it was confirmed that Moto3 riders Josh Whatley and Scott Ogden along with their team coordinator Taylor Mackenzie and team principal Michael Laverty will attend the show on Saturday 26e November. Just over a year has passed since the team launched at Motorcycle Live 2021, giving visitors a real chance to find out what that first year has been like.
Joining his many fans at the NEC in November will be a fan favorite in the form of former BSB and now Moto2 star Rory Skinner, who will be joined that day by 2011 BSB champion Tommy Hill.
Isle of Man TT sensation Davey Todd will visit the show for the second time in a week last Saturday with Motorcycle Show presenter Henry Cole.
Moto Live VIP List 2023
Saturday November 19
Steve Parris
James Whitham
Peter Hickman
Lee Jackson (Kawasaki)
Dougie Lampkin MBE (CCM)
Dave Thorpe (Honda)
Leona Graham (Honda)
Steve Plater (Eurosport)
Nick Sanders (Yamaha)
Mick Extance (Harley Davidson)
Dean Harrison (TT)
John Reynolds (Suzuki)
Jeremy McWilliams (Indian Motorcycles)
Jonny Davies
Neil Hodgson (Mackenzie/Hodgson Insurance)
Rory Skinner
Sunday November 20 – BSB Day
Steve Parris
James Whitham
Peter Hickman
Lee Jackson (Kawasaki)
Dougie Lampkin MBE (CCM)
Tarran Mackenzie (Yamaha)
Lee Johnston (TT)
Dave Thorpe (Honda)
Leona Graham (Honda)
Steve Plater (BMW)
Mick Extance (Harley Davidson)
Bradley Ray (Yamaha)
Jason O'Halloran (Yamaha)
Tarran Mackenzie (Yamaha)
John Reynolds (Suzuki)
Neil Hodgson (Mackenzie/Hodgson Insurance)
Ryan Vickers (BSB)
Charlie Nesbitt (BSB)
Stacey Storm (BSB)
Dan Jones (BSB)
Liam Delves (BSB)
Josh Owens (BSB)
James McManus (BSB)
Jack Kennedy (BSB)
Davey Todd (BSB)
Johnny Garness (BSB)
Todd Ellis / Emmanuelle Clement (BSB)
Jack Scott (BSB)
Glen Irwin (BSB)
Leon Haslam (BSB)
David Shoubridge (BSB)
Tommy Hill
Monday, November 21 – Press and Trade Day
Steve Parris
James Whitham
Peter Hickman
Mike Russell (TT)
Dave Thorpe (Honda)
Matt Oxley
John McGuinness (TT)
Glen Irwin (TT)
Ben and Tom Birchall (TT)
Mick Extance (Harley Davidson)
John Reynolds (Suzuki)
tuesday november 22
Steve Parris
James Whitham
Peter Hickman
Dave Thorpe (Honda)
Gary Thompson MBE
Nick Sanders (Yamaha)
Danny Webb
James Hillier (TT)
Mick Extance (Harley Davidson)
Wednesday, November 23
Steve Parris
James Whitham
Niall Mackenzie (Mackenzie/Hodgson Insurance)
Peter Hickman
Dave Thorpe (Honda)
Danny Webb
Mick Extance (Harley Davidson)
Neil Hodgson (Mackenzie/Hodgson Insurance)
Henry Cole (TV)
Thursday, November 24
Steve Parris
James Whitham
Niall Mackenzie (Mackenzie/Hodgson Insurance)
Peter Hickman
Julien Ryder
Keith Huewen
Simon Hargreaves – Frontal Chatter
Martin Fitz Gibbons – Frontal Chatter
Dave Thorpe (Honda)
Michael Rutter (TT)
Mick Extance (Harley Davidson)
Neil Hodgson (Mackenzie/Hodgson Insurance)
Friday, November 25
Steve Parris
James Whitham
Niall Mackenzie (Mackenzie/Hodgson Insurance)
Peter Hickman
Dave Thorpe (Honda)
Gary Thompson MBE
Nick Sanders (Yamaha)
Mick Extance (Harley Davidson)
Neil Hodgson (Mackenzie/Hodgson Insurance)
Max Cook (BSB)
Saturday November 26
Steve Parris
James Whitham
Niall Mackenzie (Mackenzie/Hodgson Insurance)
Peter Hickman
Carl Fogarty MBE (Bikesure)
Dougie Lampkin MBE (CCM)
Dave Thorpe (Honda)
Nick Sanders (Yamaha)
Vanessa Ruck (Harley Davidson)
Mick Extance (Harley Davidson)
John Reynolds (Suzuki)
Neil Hodgson (Mackenzie/Hodgson Insurance)
Josh Whatley (Visiontrack Moto3)
Scott Ogden (Visiontrack Moto3)
Michael Laverty (Visiontrack Moto3)
Davey Todd (TT)
Sunday November 27
Steve Parris
James Whitham
Niall Mackenzie (Mackenzie/Hodgson Insurance)
Peter Hickman
Carl Fogarty MBE (Bikesure)
Dougie Lampkin MBE (CCM)
Dave Thorpe (Honda)
Vanessa Ruck (Harley Davidson)
Mick Extance (Harley Davidson)
John Reynolds (Suzuki)
Neil Hodgson (Mackenzie/Hodgson Insurance)
2022 Triumph Street Triple 765 Preview
2022 Triumph Street Triple 765 Preview Video | Moto2 edition unveiled