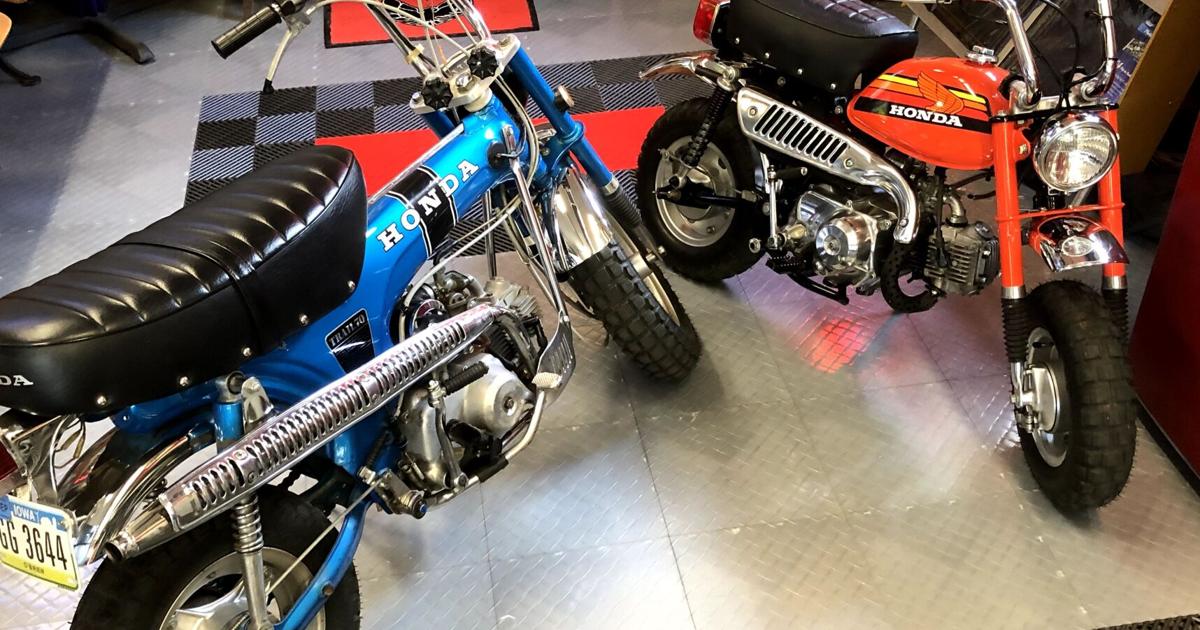 Sheldon's Mini Motorcycle Parade is Thursday | New
SHELDON—In the 1970s, it was common to see mini-motorbikes whizzing past Hills Park, on trails, or at other popular gathering spots in Sheldon.
However, the mini-motorcycle trend faded in the 1980s and it is rare to see one around town.
Motorcycles, which are a little bigger than a bicycle but smaller than a motorbike, are now stored in garages and barns.
Greg De Jong wants to pay homage to popular old two-wheeled recreational vehicles with a ride on a vintage mini moto on Thursday.
"There are a lot of unique bikes that you don't see, and I think it would be very interesting for people to see them," De Jong said. "In the late 1960s, 1970s and 1980s, this generation, a lot of it was important. At the time, Glen's Sports Center had these Hondas lined up because all the kids had them.
The itinerary for a vintage mini-motorbike ride scheduled for Thursday evening June 23 in Sheldon will begin at 6 p.m. near the new Perspective Insurance building at 2534 Park St. It will head south on Country Club Road to East Ninth Street, west to Washington. Avenue, head south to 11th Street, then head west to downtown Sheldon. The ride will involve two garage visits, then the mini bikes will do a few loops around downtown Sheldon around 6:45 p.m. for everyone to see.
"We'd like the public to come down and line the streets like it's a night cruise," De Jong said.
Minibikes will then park at 7 p.m. at Langer's Bar & Grill at 207 Eighth St.
"They will have an area where the bikes can be displayed and the public will be invited to view the bikes," De Jong said. "We all grew up with them. Guys who have it now, it's become a national trend. It's a good memory for us.
After leaving Langer's, the group will take East Sixth Street back to Country Club Road.
De Jong doesn't have much trouble queuing to take part in the first-ever mini motorcycle parade in Sheldon.
The ride and parade are open to any type of pre-1990 motorcycle, whether it's a full-size motorcycle or mini-bikes.
"I expect a lot of mini trail bikes, Honda 50s, 70s, 100s, there are a lot of them around," De Jong said. "I anticipate a good group of motorcycles. It could be 30, it could be 50, it could be 75. There seems to be a lot of talk around town. There seems to be a lot of local interest.
De Jong will ride his own mini bike during the event.
He has a Honda Z50, which is similar to the Honda Trail CT70 that De Jong had during his teenage years. De Jong has three of the two-wheeled vehicles at his home.
"I basically tried to get what I had as a young boy, that's the driving force behind it all for me," De Jong said. "One of them is a fine original. A lot of bikes were shelved back then or stopped working or wrecked, so they just sat in a barn or somewhere. People are starting to take them out and restore them.
De Jong hopes the trip on Thursday June 23 will not be punctual. He's waiting to see what the turnout looks like, but he'd like it to become a regular occurrence.
"We will see what it becomes. It could turn into a bike show or Moonlite Crewzers, and they invite the bikes to the car show on Labor Day," De Jong said. "We hope to develop it. Maybe even bigger and better next year. The first time you do it people get excited, so time will tell.
To participate in the hike, contact De John at 712-348-4169.