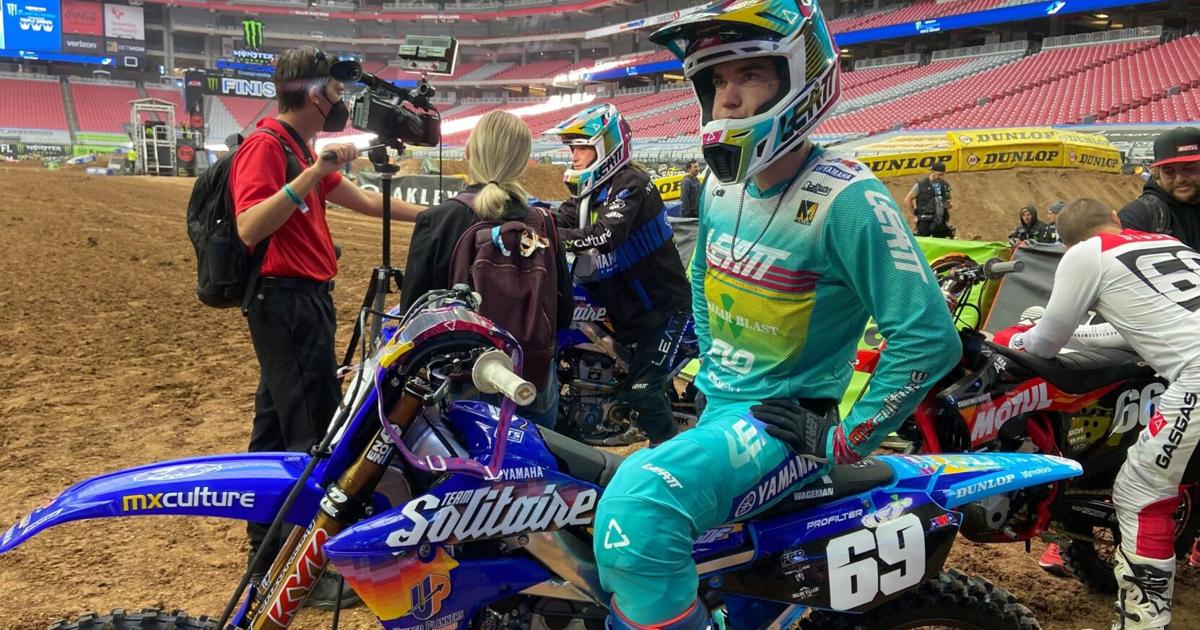 Team Solitaire Shows Small Supercross Groups Can Thrive | Sports
Some teams are literally better equipped to succeed in the Monster Energy AMA Supercross Championship than others in the series.
Factory teams backed by the sport's seven dirt bike manufacturers — companies such as Kawasaki, Suzuki and Yamaha — enjoy bigger budgets and better riders than teams without factory backing.
But that doesn't mean independent racing teams like Glendale-based Team Solitaire can't compete and impact the sport.
That's what brought Team Solitaire co-owners Chris Elliott and Ryan Clark together. The two met while Elliott, a digital marketing expert, was working for a 250SX Supercross team and the pair connected over a common cause.
"We saw an avenue to help runners while remaining (financially) viable in a sport where factories spend millions," Elliott said.
Supercross is an off-road motorcycle race on courses built with various jumps and tight turns. Unlike motocross, the sport from which Supercross is derived, Supercross races are usually held at football and baseball stadiums across the country. The sport has two classifications: the 450SX class, which includes heavier and faster bikes, and the 250SX class, with riders using less powerful but more agile bikes.
One of the biggest advantages of factory teams in the sport are their bikes – and the latest parts for them. Kawasaki's 2022 450SR bike, for example, features a new cylinder head, new exhaust system and new shocks and clamps, among other upgrades.
The ability to ride factory bikes backed by big budgets attracts top riders, which adds to the dominance of factory teams. They have won every race in the 450SX class and 250SX class so far in 2022, with races remaining in Foxborough, Massachusetts and Denver as well as the 2022 Supercross World Championship in Salt Lake City on May 7.
Team Solitaire doesn't get any of the benefits that a factory team gets. Despite improved racing leading to improved season standings, the team is not a serious contender for a season championship.
Yet no one at Team Solitaire is focused on winning the season championships. Instead, Team Solitaire is doing things differently behind the scenes to stay financially viable while providing a testing ground for up-and-coming 250SX West riders.
Few things about Team Solitaire are typical in Supercross, including how the team has evolved.
Early partnership
Elliott's passion for bicycles was evident at a young age. The passion began to blossom when his father bought him a bicycle. According to Elliott, he and his father spent their free time working on the bike and racing on the weekends.
He remembers the sights and sounds of going to Supercross races once a year when the series traveled to Minneapolis, which the series first visited in 1994.
"Supercross in particular has always been so visually appealing, all the new gear, the shiny bikes. And the show itself was so mesmerizing," Elliott said via email.
His marketing background and passion for bikes came full circle when he signed a marketing contract with a 250SX Supercross team. While working on this deal, he met Clark.
The partnership blossomed, and in 2016 Elliott and Clark decided to reincarnate Team Solitaire, which Elliott originally started in the early 2000s. The new version of the team entered its first Supercross season in 2017.
Clark, who has lived in Arizona for two decades, calls Team Solitaire his "passion project."
And the passion isn't just the love for bikes and Supercross. It's also about leveraging Elliott's digital marketing experience to introduce people to the sport in a cost-effective way.
"We're trying to do these VIP things and single-race partnerships that we think might be a little more affordable for people, and then take them out, get a taste of it," Clark said.
On race day, that marketing strategy comes to life with special paint schemes, such as the team's Phoenix Suns-inspired scheme used at Glendale this year. The strategy has been in place for several years, as seen in the team's Arizona Cardinals-inspired outfit used at the 2020 Supercross event in Arizona. Team Solitaire displayed a special Cardinals-themed bike in the pits ahead of that year's race complete with a rider's helmet inspired by the Cardinals' headgear and a racing suit made in honor of the former star Cardinals Larry Fitzgerald.
The team also uses themes inspired by their current lead partner Nuclear Blast, a heavy metal record label.
make it work
Team Solitaire isn't just unique in its marketing strategies and paint schemes at various Supercross races. It's also unique in that everyone has their own responsibilities outside of the team.
Clark works at Stacy and Witbeck, a building contractor. Elliott works as a real estate agent.
Team Solitaire's two mechanics, Eric Angelski and Colin Burgh, work at Crank Works in Tempe as machinists. Crank Works is a repair shop that specializes in crankshaft services for a variety of vehicles, including motorcycle works that are useful for Supercross work. The company also works on ATVs, personal watercraft, snowmobiles and off-road utility vehicles.
This makes it difficult to get everyone together to work on team-related projects, as they live in different areas of the Valley.
"The last thing they want to do is drive any further west to my house to do that, so we're just working on what makes sense," Clark said.
Much like their work building the team's bikes, Team Solitaire's mechanics have found the solution to the team's whereabouts problem.
All of the team's mechanical work is done in Angelski and Burgh's garage in Maricopa, where they share a home. According to Angelski, they have renovated their garage to create a space where they have everything they need to work on the team's Yamaha motorcycles.
"It feels more like a store and more like a workspace," Angelski said. "Because we have such long hours, it seems like it works better that way rather than having a location and having to go there and then driving home and going to work and doing all of this."
After finishing their 8-to-5 job at Crank Works, they return home and work Team Solitaire's bikes late into the night. Angelski estimates he works more than 100 hours a week between his two jobs, comparing his workload to "two full-time jobs and one part-time job."
In an average season, Angelski and Burgh build eight to 10 bikes. According to Angelski, each bike takes two to three days to complete.
Even on race weekends, the team's prep work is far from done, with the team using different marketing programs from race to race, Angelski said.
"We usually show up on Fridays to the races and we have to install graphics, plastics and seat covers on the bike," Angelski said. "Most teams have already done this in the middle of the week or so because their pattern doesn't really change."
Working more than 12 hours a day at different jobs can have adverse consequences. However, Angelski said his work for Team Solitaire was not about him or his personal goals.
"You're ready to do anything to help your runner reach their goal and take it to the next level," he said.
Fortunately for everyone involved in Team Solitaire, they have the support of their regular employers.
When Supercross came to Glendale in January, Clark felt the love from Stacy and Witbeck in particular. According to Clark, the company's vice president and project manager came to the Glendale event to support Clark's team.
At Crank Works, Angelski said he was allowed Fridays off during the season. However, this day off is not the only benefit he gets from the company. He also cherishes what he learns from his bosses.
"To be able to help us with the knowledge that the owner, Phil Schaefer, has about this industry and to be able to help us with so many other aspects is phenomenal," Angelski said.
Team Growth
Working full time and then taking a second job can be done out of necessity for some. These people may not feel the impact of their work outside of income.
At Team Solitaire, however, each member of the team feels rewarded in some way.
"Honestly, the rewarding part ends up being the creative outlet I have with the team," Elliott said.
For Clark, seeing his team grow inspires him to keep going. This growth is seen in one runner in particular.
Robbie Wageman has been with the team since 2020. He finished just inside the top 20 in the 250SX West season standings in his first two seasons, then took a big leap this year into the top 10.
"He's grown tremendously and so for us it's really rewarding and that's what keeps us going," Clark said. "This year we brought in Ryan Surratt, who is just at the beginning of our relationship with him, and we hope to create that same type of growth curve with him."
Angelski agrees with Clark. From a mechanic's perspective, he sees his hours and hours of work come to fruition when a rider succeeds on the bikes he builds. It's worth a season that lasts from January to May, despite the other responsibilities.
"We all work incredibly hard, and we know we work harder than a lot of other people in this industry," Angelski said. "With a full-time job and everything, it's super rewarding, especially when you have a good result."