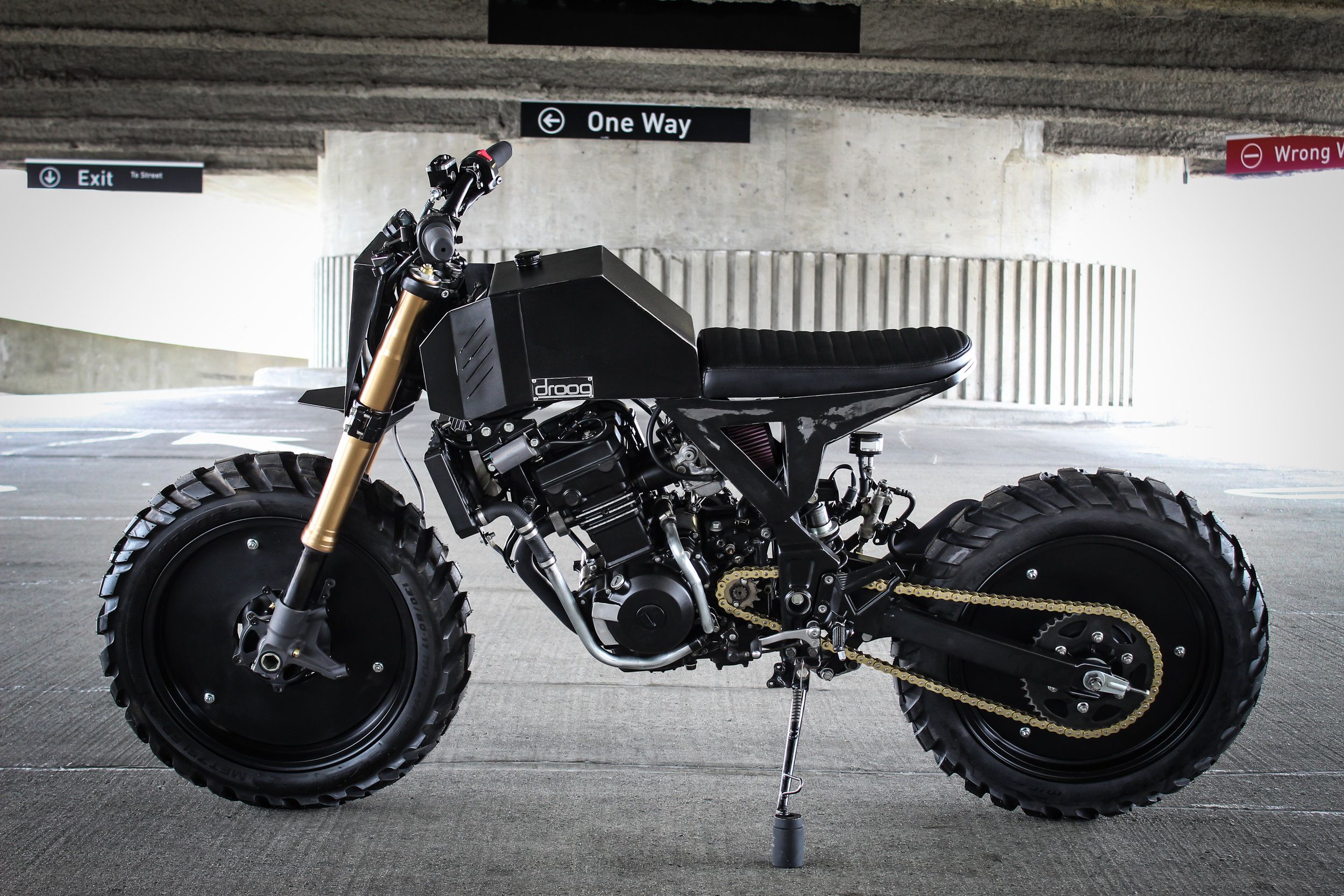 Top 10 bikes for an apocalypse
"My life is fading. The vision darkens. Only memories remain. I remember a period of chaos. Ruined dreams. This wasteland. But above all, I remember the Road Warrior. The man we called "Max".
The idea of ​​an apocalypse bike has been an interesting place for bike makers and modders to go head-to-head. Over the years, these bikes have been a testing ground for durability, technology, and simplicity for riders to purchase their chosen getaway vehicle from tomorrow's nuclear fallout. While Mad Max was best known for his car, these bikes are a worthy addition to any post-apocalyptic adventurer's stable.
10/10

Specialized electric bike
Side shot of a red and black Specialized Turbo e-bike
The end of the world is fear-inducing in many categories, but access to fuel and transportation is the most intense of them for people like me. Fortunately, e-bike enthusiasts have us covered. The idea of ​​perpetual energy has eluded the manufacturing world. Yet, in the eyes of engineers around the world, it's not just a possibility, it's also vital for the future of transportation. With the popularity of e-bikes for urban commuters, the natural evolution of the platform was the addition of solar panels for instant charging. Eclectic bike purists seek out these panels to charge when the bike isn't in use, but the obsessives have implemented them into the drivetrain, allowing the bike to ride forever, adjusting as it goes. Although the bikes are not available in the market, try to imitate this construction, if you want one for yourself. Also, bikes from brands like Specialized might come in handy.
9/10

Kawasaki KLR650
Shot of a blue 2008 Kawasaki KLR 650 with white background
You hear the sirens announcing the arrival of enemy troops. You know the city is not safe. Inspired by Red Dawn, you decide to head into the woods towards the hunting cabin. But, how do we get there? The road is too dangerous for your Honda Civic. The garage is calling you. You smell the familiar smell of motor oil. Your eyes are drawn to the natural beauty of your Kawasaki KLR650. A true granddaddy of dual sport riding, the Kawasaki KLR650 is the best thing that has ever happened to the sport. A rock-solid engine, reliable performance, simplistic styling and excellent value for money are all good reasons to be drawn to the wonders of motorcycling. A true fan knows how applicable the motorcycle can be in any use case. This will take you to the next point on the mountain and leave you wanting more.
Related: Richard Hammond travels 200 miles on a TVS commuter to end world hunger
8/10

Brozz 250

You hear the news of possible doomsday scenarios and decide to prepare. By buying all the cans of beans you can find, you equip your house with the best survival accessories. Jugs of water, freeze-dried MREs, and wheat fill your warehouse. You check your bank account and only have $20,000 to spend on your chosen vehicle. You could invest that money in a used car and risk years of damage and wear and tear, or you could buy a new car. The Brozz 250 is perfect for this scenario. It was built with Honda-inspired engineering, a carbureted engine and sport-focused dual livery. This bike is a crowd favorite. Order one today for less than $2,500 and have it delivered right to your door with minor assembly.
7/10

Yamaha TW200
Side profile view of a white 2008 Yamaha TW200
During your adventures, you scavenge the outback, looking for supplies that might be useful on your journey. The houses are empty, stripped of their resources, and not a can of Chef Boyardee. With little hope, you decide to check out the barn – the golden rays of the sun beam down on your deliverance. Your dream becomes reality. The Yamaha TW200. A farmer's best friend, this 200cc beauty is meant to be driven hard and put away wet. The Yamaha TW200 is an economical dual-sport with a pension for long-distance riding and a bulletproof engine platform. Even if you can't find one for yourself, familiarize yourself with the platform. You are sure to find a few on the road.
Related: The Droog DM-015 Motorcycle Seems To Have Escaped The Mad Max Citade
6/10

Suzuki DL650
Side shot of a red 2006 Suzuki V-Strom 1000
You walk through a deserted town, looking for supplies and food. The street is quiet and dark at the end of the afternoon, almost. The dashboard in front of you lights up with a flashing indicator on the screen, and that's the check engine light. Where are you going to find a mechanic at a time like this? Your bike is only 12,000 miles away. It's time to find a new ride, and the Suzuki V Strom 650 is a great option for the road-focused warrior.
Over the years, the V Strom has built a reputation for shattering mileage records and maintaining its presence on the road, even beyond 100,000 miles. With standard ABS, adjustable suspension and the option for street tyres, this is the bike if you're inspired to stay out in the open; more maintained road.
5/10

Christini military 450
Photo of the Christini Military 450
One of many bikes on this list designed for the military, the 450 Military has a flair for off-road use. The Christini Manufacturing Group has partnered with Tactical Mobility Training, a military training group, to give troops even more confidence when entering the craziest of conditions. This is a great option for those looking for ATV or off-road vehicle use while still keeping it compact for easy concealment. The bike has the option of puncture proof tires (foam inserts to prevent punctures), high capacity lithium batteries, durable skid plate, engine guards, luggage and automatic clutch. These bikes are made to order at the Christini factory. The army accounts for the most orders in the queue.
Related: Deus Ex Machina Released The Mad Max Tribute On A Z900RS
4/10

Kawasaki JP8 Diesel
Motorcycle JP8
We love the KLR650. It is adaptable, functional and sold at a low price. But what if you improve the engine and the power delivery? Like the standard LS or Cummins exchange in performance cars, the diesel exchange in bikes has become a popular option for those looking to push the limits with superior fuel efficiency and power. The new JP8 delivers an incredible 98 MPG at 55 MPH, ready for the end of days. Created with the intention of using United States Marine Core, this bike is ready for anything and has even been used in combat, especially in Kuwait. The engine is run on biodiesel or JP8 Jet Fuel, which is where the bike got its name. Look for this Frankenstein of a motorcycle if you're looking for military performance and aggressive utility.
3/10

Droog Motorcycle
Side shot of a 2019 Droog Moto E Fighter finished in black standing in a parking lot
One of the most appealing options on this list, Droog impresses with its various options in the Mad Max-inspired genre. The company offers the Urban Fighter (a compact, high-performance streetfighter), the Mini Fighter (a compact naked bike, imagine an angry Honda Grom), the E-Fighter (a Naked electric Streetfighter), and its E-Fighter V2 more premium, our pick up litter. The premium E Fighter V2 offers 163 city miles and 98 highway miles, with a combined range of 122 (perfect for your Desert Clans getaway). We greatly admire its rat bike styling and fierce knobby tires. This minimalist engine also offers a low-maintenance option for those looking to avoid messing with the carbs.
Related: Mad Max: Fury Road – Behind The Scenes: Video
2/10

Custom Yamaha XV920R from The Walking Dead
Side profile of a custom Yamaha XV920R, which Daryl used as a bike in The Walking Dead
The familiar sound of moans and growls fills the woods. You loved Call of Duty Zombies, but this event is not only regular but terrifying. You might be the most knowledgeable about zombies and zombie shows, so you took notes on what worked and what didn't for groups in the past that survivors put in this situation . One man stands above the rest as uniquely skilled in these situations: Daryl from The Walking Dead.
Daryl's vehicle of choice was a mix of two-wheelers, but his most iconic was his rat-styled XV920R, created by Classified Moto Customs. The '92 CB750 Nighthawk features various parts from the stock bike and XS650 and R6 parts integrated into a Frankenstein-inspired Mad Max masterpiece. The purpose of this bike was a quick getaway and a functional off-roader in the southern woods. Look for this bike if you like the style and heritage taken from Crossbow zombie legend, Daryl Dixon.
1/10

MotoPed Survival Bike
Side profile photo of a Motoped-Survival3 bike
Fires rage down the road as you make your way to the nearest gas station. Meteors falling to earth, dogs and cats living together test the chaos of a planet! As you get closer, you can't wait for the sweet release of a full tank of gas. You were making the last corner and you saw cars stopped in front of you. The sudden realization hits you right in the face that there is a line. Oh the pain! What's going on? What's going on? How the hell do you avoid gas lines these days? Time to start pedaling? The MotoPed team has you covered with their new version of the survival vehicle. With current system upgrades, designers have added a main fuel tank along with the additional fuel of two optional red side fuel tanks allowing you to go 250 to 300 miles without refueling. Did they just attach a motor to a mountain bike? Yes. Is it pretty? No. Is it great? Absolutely. Strap your "Get Out Bag" to this beautiful machine and ride with confidence in the red sunset of nuclear fallout. No worries, see you next.