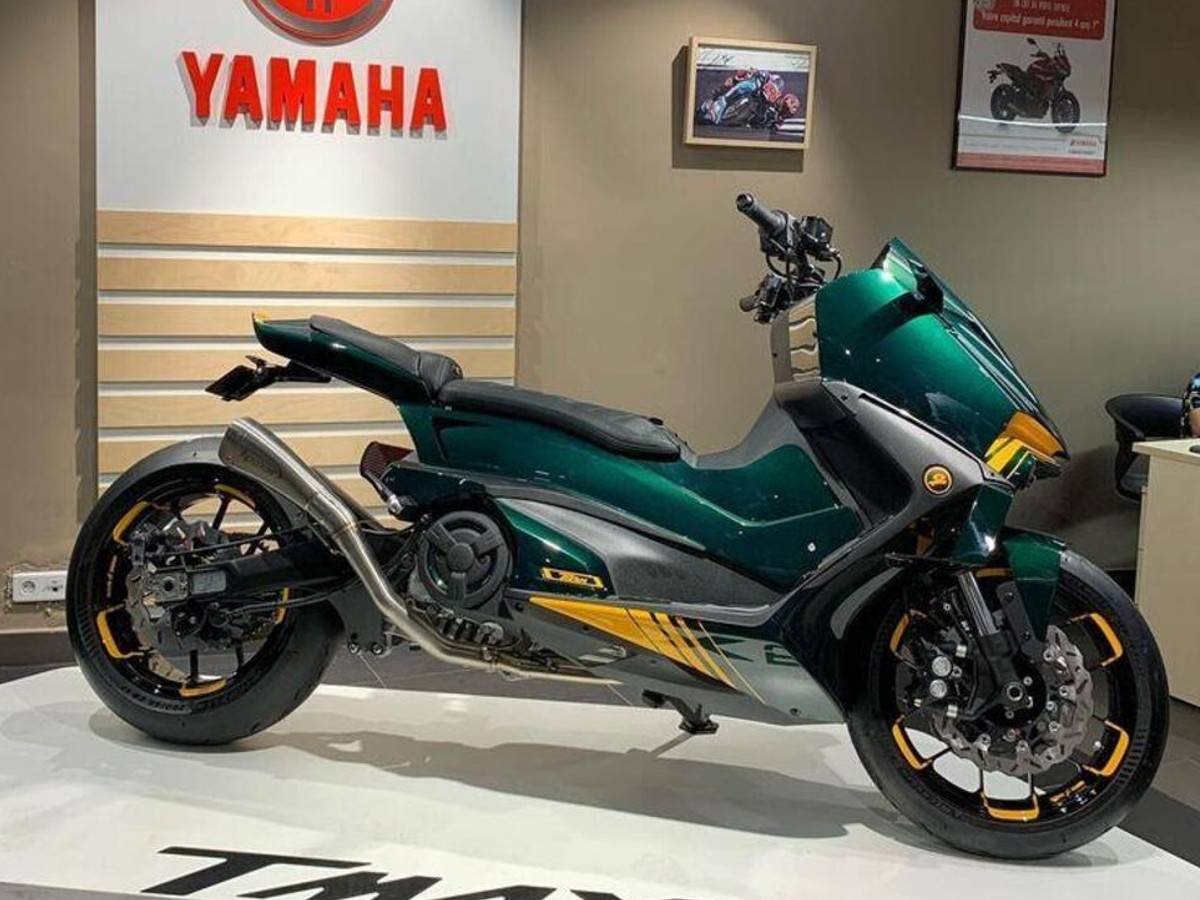 Yamaha TMax 562cc scooter modified by Ortolani Customs
The Yamaha TMax debuted in July 2000 at an international press event in Naples, Italy and Iwata, Japan. It has been in Yamaha's portfolio for over two decades and has seen many model revisions over the years. As the scooter improved, so did its fanfare. The fact that it offers the practicality quotient of a scooter and the performance of a motorcycle has made it one of the go-to options for enthusiasts and custom builders.
The seventh generation TMax is no exception. It's sharp, powerful (but not powerful enough) and handles well too. It was the perfect platform for Ortolani's French Customs to build something better.

The idea was to pack the TMax with performance and make functional and cosmetic upgrades to give it the look, feel and performance of a hyperscooter. We have saw similar concepts over the years, but nothing comes close to the "Titan". Yes, that's the name this inflated scooter was given. Does it really bear his name? We would say yes. It's crisp and striking to look at thanks to the redesigned aluminum body and paint scheme. The headlight, in particular, is reminiscent of the Yamaha R1.
Performance upgrades mean the scooter now delivers over 50PS compared to 47PS on the bone stock version. The power-to-weight ratio should also be increased thanks to minimal bodywork and a lighter aftermarket exhaust.

What is also different are the overall proportions of the scooter. Although it sports fewer panels, it visually looks bigger and that's thanks to the 17-inch wheel set borrowed from an Aprilia RSV4. With great performance comes the need for better braking ability, so the brakes also had to be upgraded with ABS. Pan back and you'll notice the standard belt drive system has been replaced with a chain. This obviously required further modification to the swingarm in order to accommodate the larger wheel and revised drivetrain.

Rounding out the package, Ortolani added a pair of Rizoma Stealth mirrors – something you'll mostly see on sportbikes. These wing-inspired mirrors can swing back and forth for better aero or rear view. Their effectiveness in the real world depends on each individual. The latest updates include the instrumentation of the scooter which also gets a massive overhaul thanks to the custom unit made by DEV'MOTO. The split saddle is a distinctive piece of NMB Design inspired by Porsche and Lotus.
In summary, the Titan is a work of art that could entice even loyal bike enthusiasts to get a maxi-scooter. And that means something!